Adirondack Wildflowers:
Trout Lily (Erythronium americanum)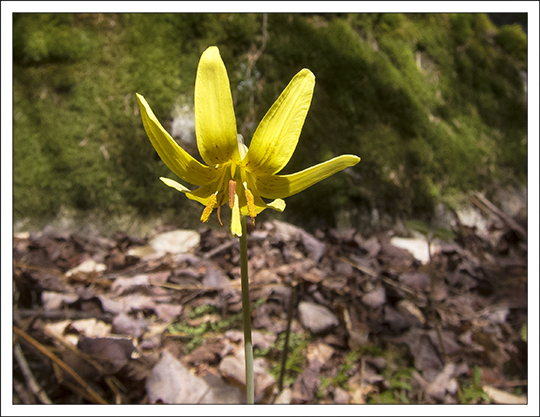 One of the earliest spring flowers in the Adirondack Mountains is the Trout Lily (Erythronium americanum) - a spring ephemeral with delicate yellow blooms and mottled leaves. Like other spring ephemerals, Trout Lilies bloom early in the spring, quickly produce seed, and then wither as the trees around them come into full leaf. This strategy allows the plant to take advantage of the sunlight reaching the forest floor in early spring.
The yellow flowers are solitary and nodding, usually about an inch or more in diameter. During bright days, the petals are reflexed. The two 3-8" inch elliptical leaves are mottled with brown, resembling a trout. Single leaved plants also occur, but do not flower. This plant is also known as the Fawn Lily, American Trout-lily, Yellow Trout-lily or Yellow Adder's Tongue. It is also known as the Dogtooth Violet, referring to the tooth-like shape of the white underground bulb.
The plant was reportedly used by native Americans for a variety of medicinal purposes. The juice from crushed leaves was used by Cherokees for wounds that would not heal. An infusion of the root was also given for fever.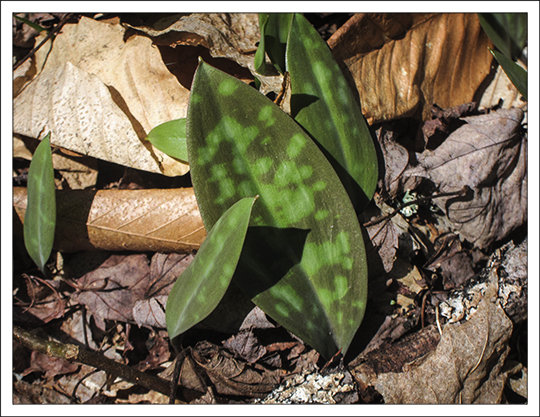 Adirondack Wildflowers: Mottled leaves of the Trout Lily along the Jenkins Mountain Trail (1 May 2013)
The Trout Lily -- a member of the lily family -- occurs in woodland in the eastern United States, including New York State. It is common in rich woods, often forming large colonies, throughout the Adirondack Park. Trout Lilies grow along many of the trails at the Paul Smiths VIC, including the Boreal Life Trail and the Jenkins Mountain Trail. The leaves usually appear in late April, with the flowers following in late April or early May, depending on the weather.
References
Lady Bird Johnson Wildflower Center. Native Plant Database.
United States Department of Agriculture. Plants Database.
University of Michigan. Native American Ethnobotany. A Database of Foods, Drugs, Dyes and Fibers of Native American Peoples, Derived from Plants.
NatureServe Explorer. Online Encyclopedia of Life.
Plants for a Future. Database.
University of Wisconsin. Robert W. Freckmann Herbarium.
Flora of North America. Database.
Connecticut Wildflowers. Wildflower Guide.
Doug Ladd. North Woods Wildflowers (Falcon Publishing, 2001), p. 124.
Lawrence Newcomb. Newcomb's Wildflower Guide (Little Brown and Company, 1977), pp. 338-339.
Roger Tory Peterson and Margaret McKenny. A Field Guide to Wildflowers. Northeastern and North-central North America (Houghton Mifflin Company, 1968) pp. 102-103.
National Audubon Society. Field Guide to Wildflowers. Eastern Region. (Alfred A. Knopf, 2001), pp. 603-604.
William K. Chapman, et al. Wildflowers of New York in Color (Syracuse University Press, 1998), pp. 90-91.
Anne McGrath. Wildflowers of the Adirondacks (EarthWords, 1981, 2000), p. 78.
Ruth Schottman. Trailside Notes. A Naturalist's Companion to Adirondack Plants (Adirondack Mountain Club, 1998), pp. 39-40.