About the Paul Smiths Visitor Center:
Discover the Adirondacks at the VIC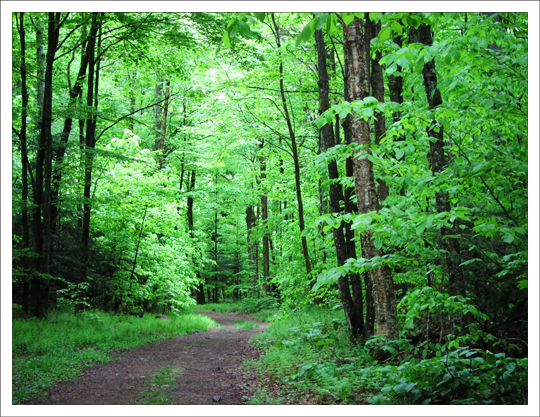 Trail System: The 3,000-acre Paul Smiths VIC contains every habitat type found in the Adirondack Park with the exception of alpine vegetation. Included on the property is a 60-acre marsh, five ponds, several brooks and swamps, bogs, fens, and varied forest types, most notably northern boreal forest. The site includes significant glacial and geological features and provides scenic vistas of Saint Regis Mountain and Jenkins Mountain.
The VIC property includes 6 miles of interpretive trails and 8 miles of back country trails for spring, summer, and fall use. Use of the trails during these months is free. Trail hours are from dawn to dusk, every day. The interpretive trails are surfaced for easy access and feature signs explaining the local ecology. The trail system traverses a variety of habitats with extensive boardwalks through wetland ecosystems. The 1.3 mile Boreal Life Trail, for example, features an extensive boardwalk through a northern bog. In addition to birds, this trail has an impressive display of native orchids during early July: Grass Pink, Rose Pogonia, and hundreds of White Fringed Orchids.

The back country trails are unsurfaced; hiking boots are recommended.

Butterfly House: Adjacent to the VIC Building, is a Native Species Butterfly House, featuring butterflies and moths in all stages of development. It is open from 10 AM to 4 PM, seven days a week throughout the summer. Visitors can view native butterflies up close and learn about the life stages and migratory patterns of these colorful insets. The Butterfly House is made possible with significant support from the Adirondack Park Institute (API).
VIC Building: The VIC building contains a 150-seat theater, exhibit rooms, a classroom, the Edmund E. Lynch Environmental Education Resource Library, a visitors lounge, rest rooms, a passive energy-saving sun space with an art gallery, a gift shop and administrative offices. Nearby is the Whispering Pines Amphitheater, picnic pavilions, and a children's playground.
The VIC Building houses exhibits on natural history and an information desk. Youngsters will find "touch tables," games and puzzles to spark their interest in regional animals, insects and plants. The not-so-young will find comfortable chairs by the window and, in nice weather, a restful haven on the front porch.
Classic ski trails are typically groomed 4' wide with a snowmobile and grooming equipment.  Track is set when conditions permit. 
Skating ski trails are typically groomed 8' to 10' wide with the VIC's quadra-tracked or snowmobile groomers.  These trails are packed and rolled as conditions permit.
Snowshoe trails are typically packed by snowshoers. Most designated snowshoe trails can be skied on with adequate snow and appropriate skier ability. 
Cross country skis and snowshoes are available for rental. The VIC also hosts ski races, snowshoe races, skate ski clinics, and snow sports weekends. Winter Trail System
Facility Rental: The VIC's indoor and outdoor facilities are available for rental for conferences, weddings, parties, and other gatherings. The VIC's Great Room, overlooking Heron Marsh and Saint Regis Mountain, provides a quintessentially Adirondack setting for dining. Contact the VIC to arrange a consultation: 518-327-6241 | Email: bmcdonnell@paulsmiths.edu .