Adirondack Wildflowers:
Whorled Wood Aster (Oclemena acuminata)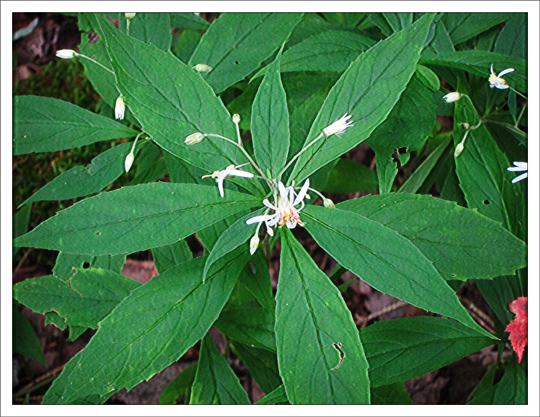 The Whorled Wood Aster is a native Adirondack wildflower that produces white flowers in late summer. The leaves are large and are often scattered up the stem in such a way as to appear whorled. The leaf edges are coarsely toothed and the flower heads are up to 1.5 inches wide. This plant is also known as Sharp-leaved Aster, Mountain Aster, or White Wood Aster, or Whorled Aster. Whorled Wood Aster grows in mountainous areas, in mixed coniferous-deciduous forests and hummocks in swamps, in eastern Canada and the northeastern portions of the US.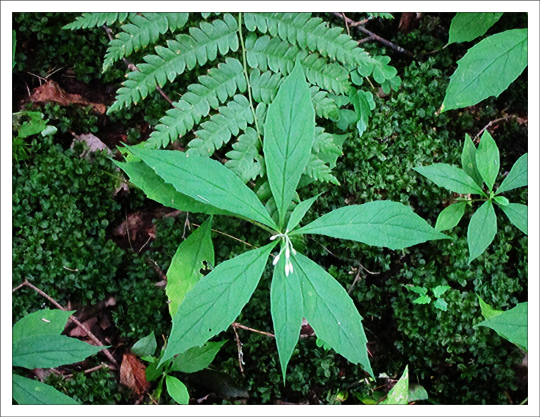 The Whorled Wood Aster is found on several of the trails at the Paul Smiths VIC, including the Boreal Life Trail and the Woods and Waters Trail. It usually begins blooming at the Paul Smiths VIC in late July or early August.
References
Lady Bird Johnson Wildflower Center. Native Plant Database.
United States Department of Agriculture. Plants Database.
New York Flora Association. New York Flora Atlas.
NatureServe Explorer. Online Encyclopedia of Life.
Doug Ladd. North Woods Wildflowers (Falcon Publishing, 2001), p. 164.
Lawrence Newcomb. Newcomb's Wildflower Guide (Little Brown and Company, 1977), pp. 456-457.
Roger Tory Peterson and Margaret McKenny. A Field Guide to Wildflowers. Northeastern and North-central North America (Houghton Mifflin Company, 1968) pp. 94-95.