Adirondack Wildflowers:
Yellow Pond Lily (Nuphar lutea)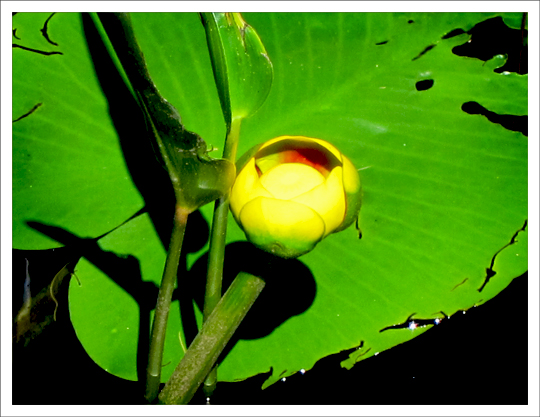 Yellow Pond Lily (Nuphar lutea) is a native Adirondack wildflower which blooms in late spring and summer. It is a member of the water lily family. Yellow Pond Lilies are aquatic plants that mostly float on the water. The leaves are broad ovals, with a U-shaped notch where the stalk is attached. The deep yellow flowers are about two inches wide and grow above the water. The flowers are pollinated by flies and beetles. This species used to be divided into several species, including Nuphar microphylla, N. rubrodisca and N. variegata, which are native to the Adirondack Mountains. These are now considered subspecies of N. lutea. The plant is also called Cow Lily, Spatter Dock, Dwarf Spatterdock, Small Yellow Pond-lily, Yellow Cow Lily, and Small Yellow Cow-lily.
Yellow Pond Lily grows in ponds, lakes, marshes, and slow-moving rivers and streams. The plant can grow in water up to 16 in. deep. It occurs throughout the US.
Native American people used this plant as a food source, boiling or roasting the roots or drying and grinding them into meal or flowers. The parched seeds were also eaten like popcorn. Yellow Pond Lily also played an important role in Native American medicine. It was reportedly used as an analgesic and anticonvulsive by the Iroquois. Other tribes are said to have used the plant to treat a variety of ailments, including skin conditions, rheumatic pain, and heart conditions.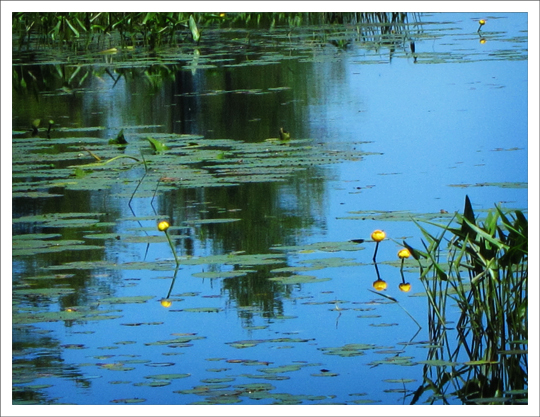 Adirondack Wildflowers: Yellow Pond Lily from the floating bridge on the Silviculture Trail (28 June 2012)
Yellow Pond Lily is found Heron Marsh at the Paul Smiths VIC. It may be seen from the Heron Marsh Trail and the Silviculture Trail. This plant usually blooms at the Paul Smiths VIC in June and July.
References
Lady Bird Johnson Wildflower Center. Native Plant Database.
United States Department of Agriculture. Plants Database.
University of Michigan. Native American Ethnobotany. A Database of Foods, Drugs, Dyes and Fibers of Native American Peoples, Derived from Plants.
New York Flora Association. New York Flora Atlas.
The New York Botanical Garden. The C. V. Starr Virtual Herbarium.
NatureServe Explorer. Online Encyclopedia of Life.
Plants for a Future. Database.
Doug Ladd. North Woods Wildflowers (Falcon Publishing, 2001), p. 129.
Lawrence Newcomb. Newcomb's Wildflower Guide (Little Brown and Company, 1977), pp. 176-177.
Roger Tory Peterson and Margaret McKenny. A Field Guide to Wildflowers. Northeastern and North-central North America (Houghton Mifflin Company, 1968) pp. 100-101.
National Audubon Society. Field Guide to Wildflowers. Eastern Region. (Alfred A. Knopf, 2001), pp. 640-641.
William K. Chapman, et al. Wildflowers of New York in Color (Syracuse University Press, 1998), pp. 88-89.
Donald D. Cox. A Naturalist's Guide to Wetland Plants. An Ecology for Eastern North America (Syracuse University Press, 2002), p. 67.
Meiyin Wu and Dennis Kalma. Wetland Plants of the Adirondacks. Herbaceous Plants and Aquatic Plants (Trafford Publishing, 2010), p. 152.