Armchair Science Lecture Series:
Citizen Science: Roadkill App
Thursday, 13 March 2014
7:00 - 8:30 PM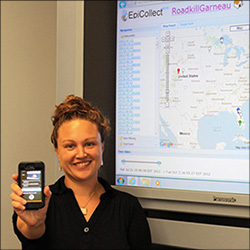 The VIC's Armchair Science Lecture series continues with a presentation by wildlife ecologist Danielle Garneau on a citizen science project designed to help scientists track ecological trends. The project makes use of a platform named Epicollect. Dr. Garneau will explain how to use your smart phone to input data on roadkill, providing information on the location, time of day, the road's speed limit, and whether the carcass has been scavenged. The data is sent to the project server, and the roadkill appears as a red pushpin on a digital map. Wildlife ecologists use the information to study animal movement, trying to pick up migratory patterns and determine whether the species is threatened.
Danielle Garneau is an Associate Professor of Environmental Science at SUNY Plattsburgh. She received a Ph.D. in ecology from Pennsylvania State University in 2005. Her primary research interests include wildlife ecology, general ecology and biology, community and population ecology, environmental and conservation biology, and citizen science. She has been teaching courses in ecology and environmental science at Plattsburgh State University since 2008.
The lecture begins at 7:00 PM in the VIC auditorium. $5 per person. Free to season pass holders, Friends of the VIC, and Paul Smith's College students and faculty. Underwritten by Friends of the VIC.