Cross Country Ski & Yoga
Wednesdays, 8 January - 15 March 2014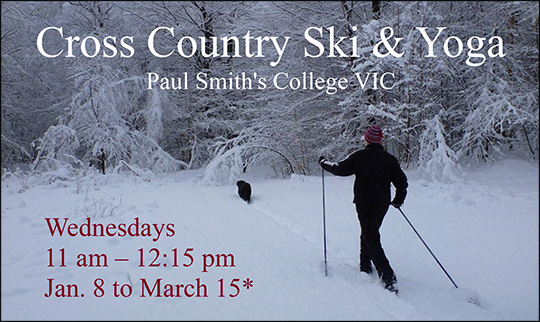 The Paul Smiths VIC is hosting a series of yoga sessions, led by yoga teacher Jackie Foster. Yoga is a perfect partner to cross country skiing. A session prior to a ski warms the muscles, joints, and lungs. It cultivates awareness and presence as you begin your journey on the trails. If you prefer to ski first, yoga will release tension and ease an exercised body. The ski experience will be better integrated through physical postures and relaxation.
Season Ski Pass & 8 sessions of Yoga: $160 (Yoga sessions may be extended, based on participation.)
Day Ski Pass & Yoga Session: $25
Single Yoga Session: $15
The sessions are 75 minutes long, from 11:00 AM to 12:15 PM. For information and registration, contact the Paul Smith's College VIC: 518-327-6241 or email Brian McDonnell.
Jackie Foster offers Kripalu-style yoga sessions in Saranac Lake, Lake Placid, Tupper Lake, and Paul Smiths. She completed the last module of the 500-hour Kripalu-style yoga program in May 2013. She also offers workshops in Ayurveda, the sister science to yoga.