Children's Nature Programs:
No School Day at the VIC: All About Snowshoes
23 December 2013 | 9:00 AM - 4:00 PM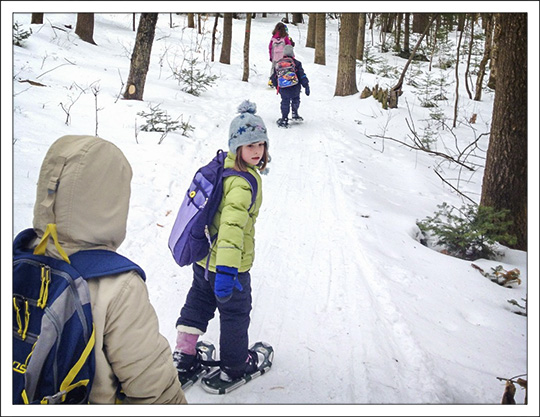 Children's Nature Programs: Exploring the VIC on Snowshoes
Discover life on snowshoes with VIC educator Michelle Berrus.  This full-day program offers kids the opportunity to learn the tradition behind snowshoes and how they are used today. Learn how to use your snowshoes and explore different ways of making snowshoes. Make your own mini-snowshoes for the tree or as a dream catcher.  Bring your snowshoes and camera, your outdoor clothes for walking and playing in the snow, and food for snack and lunch.
Reservations are required.  Reserve your spot by 5:00 PM, Wednesday, 18 December 2013 by calling 518-327-6241. The fee is $35 per person, $25 for Friends of the VIC.  Snowshoe rentals are $10 for those who need them.
This event is part of VIC's No School Days Program, which provides half-day and full-day environmental education sessions to teach children aged 7-11 to become VIC eco-explorers, learning about the natural world in the Adirondack Mountains. .  Activities include: hiking, exploring the marsh, playing games, and making arts and crafts. We will focus on sensory awareness, creative thinking, listening comprehension, empathy development, and having fun. No School Day programming is led by VIC Ecologist - Naturalist Michelle Berrus. For additional dates when No School Days programming is offered, click here.