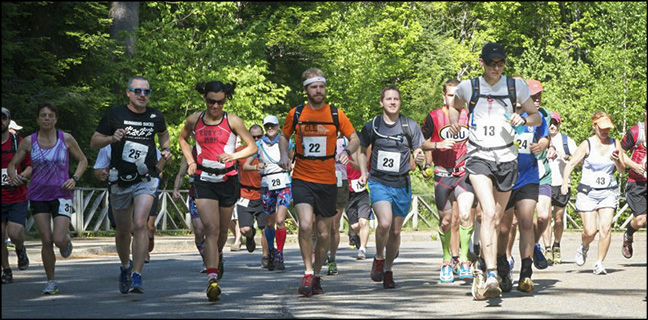 Paul Smith's College is hosting the fourth annual Paul Smiths Jenkins Mountain Scramble on Saturday, 24 May 2014. This trail run will take place on the network of wooded trails at the Paul Smith's College VIC. All proceeds from the race will be used to support the VIC, a vital community resource for environmental education, recreation, and the arts. This event is part of the 2014 Adirondack Trail Race Series, hosted by the Paul Smith's College VIC and High Peaks Cyclery.

The day will feature several events:
Race Day Events

Event

Start Time

Registration Fee

Half Marathon (with 2,364 feet of elevation gain that includes a climb to the summit of Jenkins Mountain)
9:00 AM
$50 ($75 after 16 May)
10K (does not include the Jenkins Mountain climb)
10:30 AM
$40 ($65 after 16 May)
5K fun walk/run
11:00 AM
$15
1K kids run
10:45 AM
$5
Variety is the best word to describe the course for the half-marathon and 10K.
Both runs begin by winding their way for about a half mile around the grounds adjacent to the main VIC building.
For the next 4 ½ miles the course follows a network of well defined trails that are part of the VIC trail system. These are generally 6-7 ft wide trails on a mulched surface. The trail system also includes some wooden boardwalks that traverse bog/swamp areas.
The next section is primarily on narrow single track. It includes a short "trail less" section. The course runs along the shoreline of Black and Long Ponds and climbs the trail to the summit of Jenkins Mountain at the 10 ½ mile mark. The one-mile descent is steep, uneven and trail less. It descends through mixed hardwoods and runs along a slope that was once the college's alpine ski area in the early 1960's.
From the bottom, it's a little less than 2 miles on the rolling terrain of Jenkins Mountain Road to the finish.
The 10K run also starts at the entrance to the VIC building and continues for approximately 3.5 miles over gently rolling terrain on mulched trails. The next section is narrow single track and runs along the shoreline of Black and Long ponds until the intersection with the Jenkins Mountain Road. From this point, it is 1.5 miles to the finish.