Adirondack Wildflowers:
White Water-lily (Nymphaea odorata)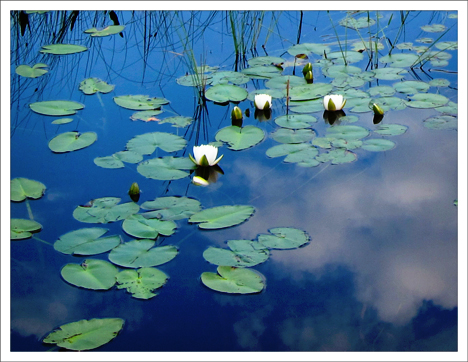 White Water-lily is a floating aquatic plant common in quiet waters of lakes, ponds, and marshes in the Adirondacks. It is one of the most common white water lilies. The flowers of the White Water-lily are two to six inches wide and are usually open in the morning, closing by midafternoon on sunny days. Each flower has many upright or spreading white petals surrounding a yellow center. White Water-lily blooms in summer, from mid-June to mid-August. The plant is pollinated by beetles, which have a more highly developed sense of smell than sense of sight.
The round leaves of the plant, which are cleft at the base, are green on top and purple on the underside and float on the surface. White Water-lily is anchored to the bottom by roots. The plant is also known as Fragrant Water Lily (a reference to its very sweet-smelling blossoms), American White Waterlily, American White Water-lily, Fragrant White Water Lily, and Fragrant Water Lily. White Water-lily is native to the eastern United States.
White Water-lily has been used as a herbal remedy for a variety of ailments, including colds, tuberculosis, bronchial complaints, toothaches, and mouth sores.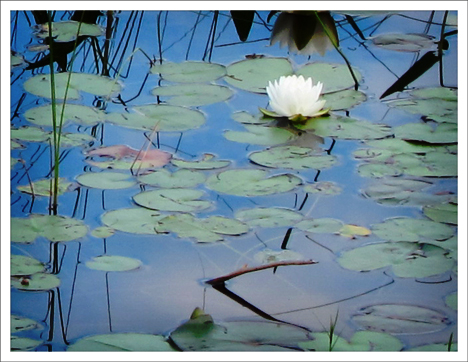 White Water-lilies bloom in profusion on Heron Marsh at the Paul Smiths VIC and may be seen from the Heron Marsh Trail and the Silviculture Trail. White Water-lilies usually begin blooming in June at the VIC.
References
Lady Bird Johnson Wildflower Center. Native Plant Database.
United States Department of Agriculture. Plants Database.
Plants for a Future. Database.
Flora of North America. Plant Database.
University of Michigan. Native American Ethnobotany. A Database of Foods, Drugs, Dyes and Fibers of Native American Peoples, Derived from Plants.
ENature. Wildflower Field Guide.
Anne McGrath. Wildflowers of the Adirondacks (EarthWords, 2000), p. 18.

Doug Ladd. North Woods Wildflowers (Falcon Publishing, 2001), p. 199.
Lawrence Newcomb. Newcomb's Wildflower Guide (Little Brown and Company, 1977), pp. 358-359.
Roger Tory Peterson and Margaret McKenny. A Field Guide to Wildflowers. Northeastern and North-central North America (Houghton Mifflin Company, 1968) pp. 6-7.
National Audubon Society. Field Guide to Wildflowers. Eastern Region. (Alfred A. Knopf, 2001), pp. 642.
William K. Chapman, et al. Wildflowers of New York in Color (Syracuse University Press, 1998), pp. 28-29.
Donald D. Cox, A Naturalist's Guide to Wetland Plants. An Ecology for Eastern North America (Syracuse University Press, 2002), pp. 53,67,132.