Adirondack Wildflowers:
Wintergreen (Gaultheria procumbens)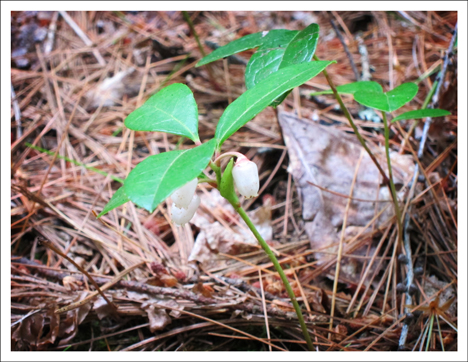 Wintergreen (Gaultheria procumbens) is an Adirondack wildflower native to eastern North America. It grows throughout upstate New York and the northeast, from Newfoundland and New England, south in the mountains to Georgia and Alabama, northwest to Wisconsin, Minnesota, and Manitoba. Wintergreen is a member of the heath family. It is also called eastern teaberry or checkerberry. The genus was named for Dr. Gaultier, a Canadian physician of the mid-18th century.
Wintergreen is a small low-growing shrub, typically reaching 10 to 15 centimeters (3.9 to 5.9 in) tall. The leaves are evergreen, elliptic to ovate, 2 to 5 cm long and 1 to 2 cm broad, with a distinct oil of wintergreen scent. Small, bell-shaped, white to pink flowers hang on short stems from the leaf axils. Aromatic red berries follow the flowers. Showy red fruits may persist through the winter.
Wintergreen grows in acidic and/or sandy soils; forests, woodlands, clearings, road banks, old pastures, heath lands, bogs, and fens. Wintergreen spreads by means of long rhizomes, which are within the top 20 to 30 mm of soil. Because of the shallow nature of the rhizomes, it does not survive most forest fires, but a brief or mild fire may leave rhizomes intact, from which the plant can regrow even if the above-ground shrub was consumed.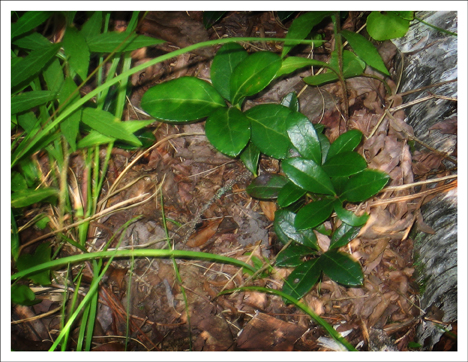 The fruits of this plant are edible, with a minty flavor,and the leaves and branches make a fine herbal tea, through normal drying and infusion process. For the leaves to yield significant amounts of their essential oil, they need to be fermented for at least 3 days. Teaberry is also an ice cream flavor in regions where the plant grows. It also inspired the name of Clark's Teaberry chewing gum.
White-tailed deer browse wintergreen throughout its range, and in some localities, it is an important winter food. Other animals that eat wintergreen are wild turkey, sharp-tailed grouse, northern bobwhite, ring-necked pheasant, black bear, white-footed mouse, and red fox. Wintergreen is a favorite food of the eastern chipmunk.
Wintergreen grows along many of the trails at the Paul Smiths VIC, including the Barnum Brook Trail, the Boreal Life Trail, and the Heron Marsh Trail.
References