Winter Sports at the VIC:
Cross Country Skiing and Snowshoeing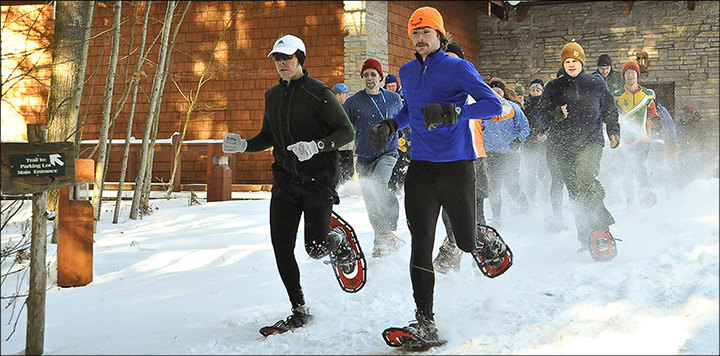 This site is no longer being updated with information on the VIC's ski and snowshoe programs. For current information on winter sports at the VIC, visit: www.paulsmiths.edu/vic/ski.
During the winter, the Paul Smiths VIC becomes a popular Adirondack cross-country ski center, with its extensive Nordic trail system open for cross country skiing, skate skiing, and snowshoeing. Under Paul Smith's College management, the VIC has nearly doubled the size of the trail system, using a groomer purchased by the College to maintain the expanded trail network. The VIC features over 25 miles of cross-country ski and snowshoe trails for people of all abilities, including a trail to the summit of Jenkins Mountain. In addition, the western trail head of the Jackrabbit Ski Trail is located at the VIC. This scenic trail travels through the woods from Paul Smiths to the hamlet of Lake Clear.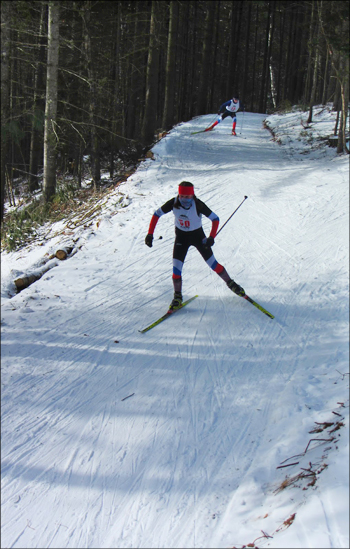 Cross Country Ski Race at the Paul Smith's College VIC. Photo courtesy of Thomas and Dori Gilman. Used by permission.
Three categories of trails, for snowshoeing, classic and skate skiing, are available for daily use from 9 AM to 5 PM, when there is snow cover. Trail Descriptions
Classic ski trails are typically groomed 4 feet wide with a track for both snowshoeing and classic skiing.
Skate ski trails are cut 7 to 10 feet wide and groomed to accommodate both skate and classic skiers.
Snowshoe trails are packed primarily for snowshoeing but may also be skied on when conditions permit.
Some trails are designated for skijoring (dog-drawn skiing). Leashed, well-behaved dogs are also allowed on the snowshoe trails.
Trail users may purchase a day or season pass. Trail users are asked to register at the visitor's building. Trails are monitored by a trained volunteer first-aid ski patrol and a courtesy patrol to assist people with directions. In general, trails are skied in a clockwise direction. Access to all trails will be through the VIC building, where food, hot and cold drinks, local art and last minute essential supplies are available.
Additionally, the VIC rents cross-country skis for $20 a day and snowshoes for $15. Trail fees are NOT included in the cost of the rental. Trail pass holders are eligible for discounts on weekend events and programs at the VIC, including bird watching walks, natural-history themed walks and events, and back country snowshoeing led by VIC staff up the Adirondack Low Peaks. The VIC also hosts a series of ski races, snowshoe races, and skate ski clinics.
2015/2016 Ski Season
Ski passes for the 2014/2015 ski season may be purchased at the VIC. For more information, call Brian McDonnell at (518) 327-6241 or email bmcdonnell@paulsmiths.edu. Download a Winter Season Pass Application.
Winter Trail Fees
Day Pass
Season Pass
Under 6 years old: Free
Under 6 years old: Free
Child (6-17): $5
Child (6-17): $50
Adult (18-64): $12
Adult (18-64): $100
Senior (65+): $10
Senior (65+): $80
PSC alumni: $10
PSC alumni: $80
Current Paul Smith's College students: Free
Current Paul Smith's College students: Free
Other college students: $8
Other college students: $80
Veteran/Current Military: $8 each
Veteran/Current Military: $80
Town of Brighton Resident: $8
Town of Brighton Resident: $80
Applicants are allowed one discount.
Guest pass:  Add an additional $50.00 to any season pass and receive 10 day passes to bring a friend to the VIC anytime.  
Friends of the VIC: Show your membership card and receive a 25% discount on Day and Season Passes.
PSC Faculty and Staff are eligible for free individual Friends of the VIC membership. Bring your PSC ID to the VIC. 
Day and Season passes are included as part of the Friends of the VIC Trailblazer membership.
Family Pass: If two adults living in the same household purchase adult passes, children under 18 living in the same residence ski free.
Season Pass Holders and Friends of the VIC receive a 10 % discount on XC ski and snowshoe rentals from MAC'S at the VIC.
Bring your VIC trail pass with you to winter events to receive VIC Center event and program discounts.
Your trail pass helps pay for grooming equipment, personnel and continuing improvements to the VIC trail system. To support the VIC year round, please consider becoming a "Friend of the VIC" by going to friendsofthevic.com.
2015-2016 Winter Season Pass Application