Birding the Adirondacks:
Teddy Roosevelt Bird Walks
9:00 AM - 11:00 AM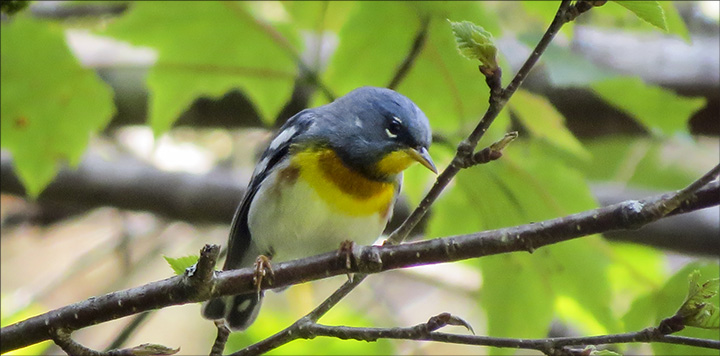 Join Adirondack Birding Center Director Brian McAllister for a series of bird walks at the Paul Smiths VIC. Learn to identify the many birds that make the VIC their summer home. You will be challenged to see and hear many of the bird species identified by a young Teddy Roosevelt in his research while visiting Paul Smiths in the 1870s (See: Theodore Roosevelt, Jr. The summer birds of the Adirondacks in Franklin County, NY).
Birders meet at the VIC building at 9:00 AM. The cost is $20/person. Free for Friends of the VIC Warblers; $15 for Friends of the VIC.   Please preregister by 5 PM the day before by calling the Paul Smith's College VIC at (518) 327-6241. To get a preview of the bird species usually observed along the VIC trails for specific dates, check out the Trip Reports (below) from previous Teddy Roosevelt bird walks.
Bird walks during the summer and fall of 2015 are scheduled for the following dates:
Designated an Important Bird Area by the American Bird Conservancy, the 3,000-acre Paul Smith's College VIC property contains every habitat type found in the Adirondack Park with the exception of alpine vegetation. Included on the property is a 60-acre marsh, five ponds, several brooks and swamps, bogs, fens, and varied forest types, most notably northern boreal forest. The 25-mile trail system traverses a variety of habitats with extensive boardwalks through wetland ecosystems. Common sightings at the Paul Smiths VIC include: Wood Duck, American Black Duck, Great Blue Heron, American Bittern, Olive-sided Flycatcher, and Yellow-bellied Flycatcher. Warblers include (Yellow) Palm Warbler, Northern Parula, Blackburnian Warbler, Black-throated Blue Warbler, Black-throated Green Warbler, and Nashville Warbler. Other sightings may include Gray Jay, Boreal Chickadee, Wilson's Snipe, Broad-winged Hawk, Hooded Merganser, Black-backed Woodpecker, and Ring-necked Duck. Click here for a list of birds seen along the various trails at the Paul Smiths VIC.
Trip Reports from the 2014 Spring & Summer Bird Walks
Trip Reports from the 2013 Fall Bird Walks
Trip Reports from the 2013 Spring & Summer Bird Walks
Trip Reports from the 2012 Fall Bird Walks
Trip Reports from the 2012 Summer Bird Walks
Trip Reports from the 2011 Summer Bird Walks